Comments of Teachers who Teach the Compensatory Classes
What emerges from the analysis of the data gathered through the systematic log and record keeping of teachers who teach the compensatory classes is that the children participate actively in the educational process, are motivated and are getting better at the use of the Greek language at the spoken and written level. As can be seen in the following comments made by teachers, the utilization of alternative pedagogical practices has helped children express themselves more freely and inspired them to create:
"The freedom of choice continues to give children the ability to find activities commensurate with their skills and their interests, thus enhancing their self-confidence and their positive stance toward knowledge."
"The unhindered access to the materials and the freedom of choice gave children the ability to find activities which they considered easy and pleasant. Let me indicate the fact that not one of the activities was returned incomplete."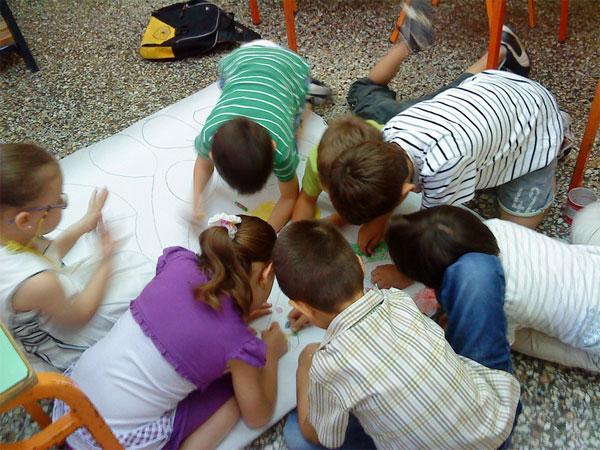 First grade kids: They are drawing an attendance sheet for the class, on which they will later write their names.

"There was interest and participation by all children in both activities that we did. Mainly, however, in the first activity, because it was something familiar to them (what we did in class was something they do in their home, as well). In addition, I would like to say that they liked a lot that they would talk about their family and about the shopping that they do with their parents."
"All children tried and managed to describe their house very well (considering their age and their grade). I was impressed by the fact that I was thinking of prompting them to make the city or the neighborhood, and they themselves determined the direction of the lesson, focusing on their neighborhood. So I continue with the topic that they themselves chose."
"I noticed that what especially drew the interest of the children was the use of the New Technologies (Technologies of Information and Communication - TIC)"
"A. was eager to take part in everything that I asked them to do and participated either verbally or in writing. In fact, I approached her while she was drawing on her piece of paper and heard her humming the song "kids are drawing on the wall". The rest of pupils were equally careful and seemed pleased with today's activities. They looked especially intrigued when we went to the library so they can borrow the books and they seemed to be inspecting them and flipping through their pages with great attention."