1. Mass-Media Coverage of the Project
Take a look at some of the most recent articles and news-items about the Project:
2. Presenting the Project at Seminars and Conferences
Presentation of the Project at the Dept. of Methodology, History & Philosophy of Science at the University of Athens
On January 29, 2014, upon the invitation of Dr. Aristides Hatzis, professor at the Department of Methodology, History and Philosophy of Science of the National and Kapodistrian University of Athens, and within the framework of the seminars he organizes, the Project's scientific coordinator, Dr. Anna Frangoudaki, and the Project's special scientific consultant, Dr. Thalia Dragonas, gave a detailed presentation of the Project to said department's students and faculty members. Their talk, entitled "The Muslim Minority in Thrace: Education and Citizenship", was preceded by the showing of a documentary about the Project, and was followed by a discussion with students (some of whom were Minority members) and other attendees.
Presentation of the Project at the University of Sussex
On April, 30, 2014, Dr. Anna Frangoudaki, the scientific director of the Project, and Dr. Thalia Dragonas, the Project's special scientific advisor, took part in a one-day conference, organized by the University of Sussex, entitled «Childhood, Youth and European Citizenship». In the conference they made a presentation entitled «Challenges in educating a culturally diverse student population: The case of the Muslim minority of Thrace» where they briefed the audience on the results/outcomes of the implementation of the Project in Thrace, and the prospects it has opened up for the pupils of the region's Muslim Minority.
Click Here to See the Poster of the Conference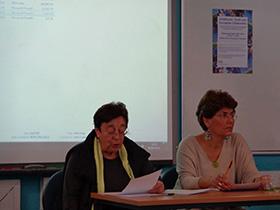 Presentation of the Project at INALCO - Paris
On April 9, Dr. Anna Frangoudaki, our scientific director, and Dr. Thralia Dragonas, our special scientific advisor, gave a presentation on our Project at the Institut National des Langues et Civilisations Orientales (INALCO) [National Institute of Eastern languages and Civilizations], in Paris. The presentation, which took place within the framework of a interdisciplinary program entitled "Plural societies," was entitled "Between Two Languages, Greece-Turkey".
Click here to see the Poster of the Presentation