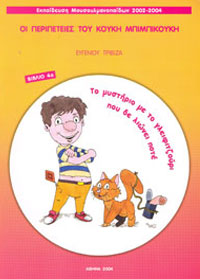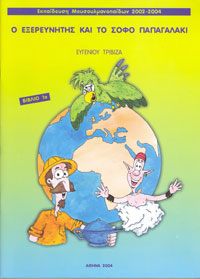 Evyenios Trivizas. The Researcher and the Wise Little Parrot (Books 1, 2, and 3).
Evyenios Trivizas. The Adventures of Koukis Bibikoukis: The Mystery of the Lollypop That Never Melts.
The objective of these books is to familiarize the pupils of Minority primary schools with the Math terminology in the Greek language, to help them prepare for the secondary school. At Minority schools, Mathematics classes are taught in Turkish. As a result, pupils who continue their studies at public Greek schools face serious difficulties, as they do not know the mathematical terms in Greek. It is these difficulties that the books are designed to help students overcome.
The books contain stories written by the award-winning author of children's books, Evyenios Trivizas. All stories deal in many ways -- all children-friendly – with issues related to the basic concepts of Mathematics taught at primary school, such as whole and decimal numbers, fractions and ratios, geometric shapes, etc.
Through the stories, children do not just learn the Greek mathematical terms (of which they know the Turkish equivalents), but also have the chance to get a better grasp of the meaning of these terms, using the large number of examples included in the books. Each chapter is accompanied by exercises, or activities, through which children can see by themselves to what extent they have learned the Greek mathematical terms. These exercises are based on the principles of active and experiential learning.