Series of Classes entitled "Experiment, Camera … Go!"
Scientific Coordinator:
Yorgos Épsimos, secondary education teacher, physicist with a postgraduate degree in the teaching of Natural Sciences.
The series of classes entitled "Experiment, camera … go!" are for pupils in the 5th and 6th grades of primary school. The classes use the conduct of experiments in the field of Natural Sciences (Physics, Chemistry, Biology), which are recorded by a video camera, as a "means" in order to expand the knowledge of the pupils and to improve their language and communication skills.
This series of classes is held in five different sections, one in each of the following KESPEMs: Xanthi, Selero, Echinos, Evlalo and Komotini. Each section consists of 5 to 15 pupils of 5th and 6th grade.
The sections meet at the KESPEMs every second week for a two-hour class. During these two hours the children are sorted into teams of three or four. Initially, they watch previously recorded experiments, such as the ones one can find on the Internet, and comment on them. In the second stage, they are taught the basic principles of conducting / presenting / video-recording an experiment. In the final stage, the pupils choose, conduct, and present to their fellow pupils one or more experiments.
The proposed experiments are ones that can be conducted with materials of daily use (e.g., balloons, drinking straws, pieces of cardboard, etc.), and are harmless. The experiments are related to concepts of natural sciences, like atmospheric pressure, impetus, density, refraction of light, etc. Other experiments, ones that would be proposed by the pupils themselves, may also be included in the series of classes, provided that they meet the same requirements of simplicity of materials and harmlessness.
The experiments, in any case, are used not so much as a tool to teach theories of natural sciences but rather as opportunities for discussion and communication in the Greek language. The final outcome of the classes will be a set of short films in which the pupils will be describing their experiments while conducting them.
See the invitation to participate in "Experiment, camera … Go!"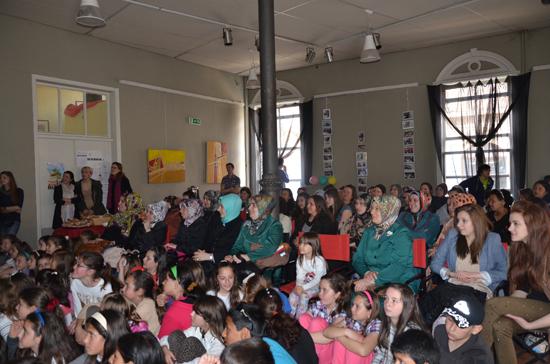 The classes resulted in creation of short films that they were presented on Sunday 14 April 2013 at the Progressive Union of Xanthi by the sections of the following KESPEMs: Xanthi, Selero, Evlalo and Ehinos. All the "little experimenters" were awarded for their effort.
Watch the movies of the students:
KESPEM of Xanthi - Harlem - The Earth Experiments
KESPEM of Selero - Comets of Selero - Travel in Space
KESPEM of Selero - Small Experiments
KESPEM of Evlalo - The best artists - A magic trip
KESPEM of Ehinos - Ehinos Fairies - The dream