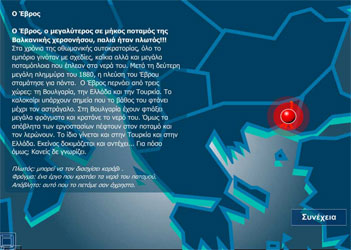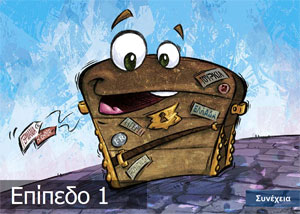 The Chest that Longs to be Moved [Where are my Wheels?]
Educational material (in CD-ROM format) to improve fluency in Greek
This is an electronic educational game that has been designed for the purposes of the computer-assisted Greek language classes that take place at the Support Centers of the Project for the Education of Muslim Children (the KESPEMs), and for the pedagogical activities of the mobile KESPEMs. It is used under the guidance of specially trained educators. The plot of the game offers children an imaginary voyage to various locations and through time. The goal is to find the wheels of the chest in order to help it travel again. The game also includes an interdisciplinary electronic library on topics related to history, geography, social and political civics, art and daily life. It is intended for children of the three upper grades of primary school, but it may be suitable for younger kids as well.
The game has 6 different levels, and the degree of difficulty increases by each level. In order to proceed to the next level, the players have to complete everything presented at the level they are on. Each level consists of games (memory games, matching games, grouping games, and games of words), texts and exercises associated with these texts. (The exercises involve production of written speech, language games, mathematical operations, visual arts, comparing and contrasting electronic and printed forms of speech and then combining them). There are 89 games in total and 89 texts with their associated exercises.
The game is open-ended, multimodal and flexible. It helps children develop oral and written speech, or improve their oral and written communication skills, through various activities (constructions, role-play, writing texts on the computer, small theatrical pieces, short videos, etc.). Both in "fixed" and in mobile KESPEMs the game has inspired and guided groups of children into various types of creative productions, a small sample of which is presented below:
In many groups, using as a basis on one or more texts from this game, children constructed mock-ups. For instance, in two class sections in Sapes -- section 1 and section 2, in Komotini, in Iasmos, and in the villages of Esohí, Mikrohóri, Yériko, that are visited by mobile KESPEMs.
In Myrtíski, they constructed a board game with questions from the "Chest" and in Témenos they prepared a book, also based on the "Chest", while in Melívia they formed their own fantasy museum. Furthermore, the texts often inspired children to create role-play games, as in Iasmos and in Komotini, or, as in the case of the group in Xanthi, motivated them to search for additional information from expert professionals (from archaeologists and art conservationists in that particular case).
The game has also motivated children to familiarize themselves with new technologies: In Agriánni they produced a video, in Kentití a PowerPoint document, and in Kerasiá a comic strip in electronic format about the adventures of the Chest.
Click here to download some photos/screenshots from "the Chest that Longs to be Moved"